Suddenly, 24-year-olds are finding themselves in charge of brand development for major corporations. What could go wrong? Maybe nothing.
There was an owl in the room.
Zaria Parvez entered Duolingo's Pittsburgh headquarters for the first time in September 2021 and spotted a human-size green and orange owl costume slumped on an empty table. Before the pandemic, this mascot had only been trotted out to promote the language learning app at recruitment events. But Parvez had an idea.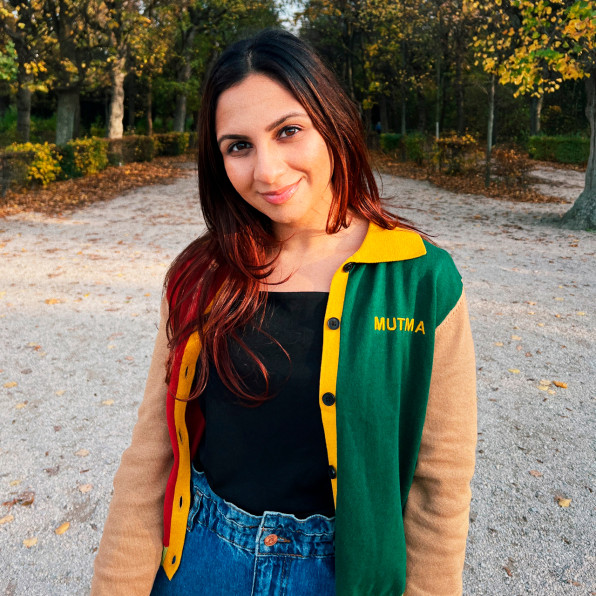 After writing some scripts and coaxing coworkers into the costume, she created Duo: a cheeky, oversize owl who twerks, taunts the company's legal team, shames Google Translate users, and pines for the similarly-named Dua Lipa on TikTok. Duo has since garnered more than 5.2 million followers on the platform, and Duolingo was given the Social Marketer of the Year award from Ad Age in April. All of this has earned the 24-year-old Parvez a reputation as a branding savant.
Parvez, who's since been promoted to global social media manager, is just one of several young corporate marketing staffers who, thanks largely to TikTok's meteoric rise, have quickly become leaders in their companies when it comes to messaging and positioning. These Gen Z'ers are not just in tune with the brand voice, but actively shaping it, and altering marketing departments along the way.
"As the impact started increasing, [senior leadership]actually started retroactively getting more invested . . . like, 'Wait a minute, something's happening here. There's a cultural shift,'" Parvez says.
The selfie cam driven, "lo-fi" nature of TikTok' which surpassed one billion active users in September 2021 and is expected to double last year's ad revenue with a forecasted $10 billion, makes overproduced ads feel distinctly out of place. TikTok users "will sniff an ad even before they scroll," says Anthony Hamelle, executive director of digital and social TBWA\Chiat\Day New York. Only native users seem to grasp the vibe––and that instinct is in hot demand.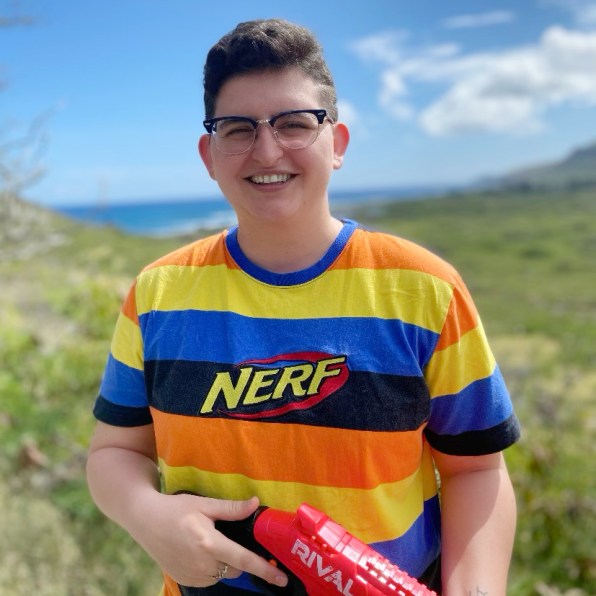 Mike Vitiello, head of content for Wieden + Kennedy's in-house social studio, says that the bulk of his team ranges from 23 to 27 years old. In May, Nerf hired a "chief TikTok officer" named Sophie Jamison who is 22. Instead of starting at the bottom, learning the business, and paying their dues, Jamison and her cohort have the whole brand in their hands.
MAKING TIKTOK TICK
Haines, Alaska has an annual snowmobile race, a museum dedicated to hammers, and a population of 1,905. This is where Milo Simpson, upon graduating from the University of California, Santa Cruz, took a job creating social media content for a 75-year-old puppeteer. Simpson moved back to California after a year, worked odd jobs, and ultimately scored a social media internship at Taco Bell in March 2020.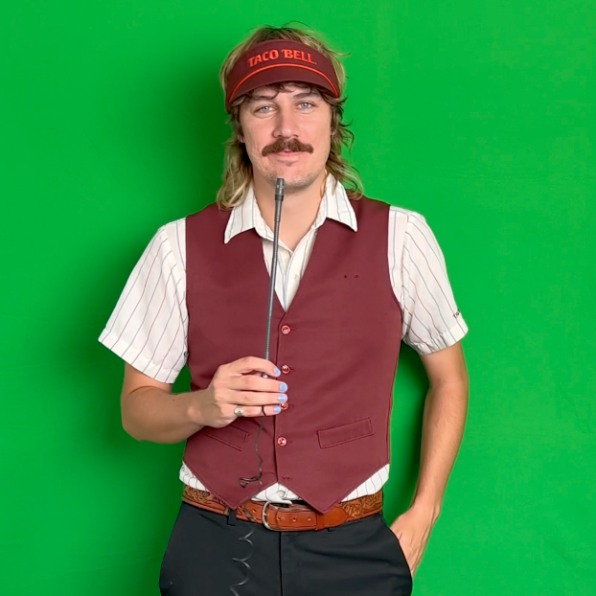 A year and a half later, he was running the brand's TikTok account. This involved managing other producers and bringing demonstrable results to one of the world's most recognizable fast-food companies, and also appearing in videos. Taco Bell's TikTok account now has 2.4 million followers.
"His personality became infused with the brand personality," says Nicole Weltman, head of social at Taco Bell.
Simpson, 26, first appeared in the company's TikTok out of necessity. Mere days after he started his internship, the pandemic hit. At home, with just his phone, he was forced to become the talent in the spots he wrote. Today, as resident content creator on the content team, his daily work involves shooting, editing, writing, and scrolling for ideas. He has two producers working with himwho assist in organizing pre-production, finding locations, talent, wardrobe, and more.
He brings ideas to Weltman and her social team for approval. The two teams work closely together and have established a high degree of trust. At times, Simpson will see a trend and need to act immediately, creating a video in full and presenting it to Weltman for her sign-off.
Simpson got to this point through lots of testing and getting to know the audience. After starting out by posting mostly repurposed user-generated content, Simpson saw that followers preferred original videos that had a lighthearted point of view. For a recent spot promoting Taco Bell's Nacho Fries, Simpson didn't write a wordy pitch to sell the product; he cut together funny clips of hired actors serving the fries with glee.
"I just added a really cool song and just told people to pose in weird positions and do different dance moves and stuff," Simpson says. The post has 1.2 million likes.
Nerf's Jamison encountered a bit of a learning curve, too. She had been almost preternaturally equipped for the role: she grew up with Friday night Nerf battles, became a Nerf influencer in her own right (as "Sophie Lightning" on Instagram and TikTok). So when Hasbro posted its opening for a Nerf Chief TikTok Officer, she received more than a dozen phone calls (including one from her eye doctor) telling her about the position.
Yet despite having this deep familiarity with the brand, she needed to differentiate the content from her personal account and develop the Nerf voice. Like Parvez, she found success with a mascot, Murph, and her own "frenemy" relationship with the character, who resembles Cousin Itt made of Nerf darts. She scored again with a TikTok that riffed on a trend of highly realistic cakes disguised as inanimate objects. It garnered 9.8 million views (Nerf's most viewed to date).
Olivia West, 24, ran Dunkin's TikTok account for about three and a half years, first as an intern when she was 21 and then as the associate manager of social. (She now helps run social media for WeightWatchers.) While still an intern, she had the idea to reference Charli D'Amelio, the TikTok phenom and Dunkin fan, in a TikTok that prompted users to hold up their fingers and put one down for each Dunkin fan trait they related to, including if they "share Charli's Dunkin obsession." Her supervisor approved it. The same day it went up, D'Amelio saw it and used the audio from West's TikTok in her own video, tagging Dunkin. West says Dunkin's follower numbers skyrocketed overnight.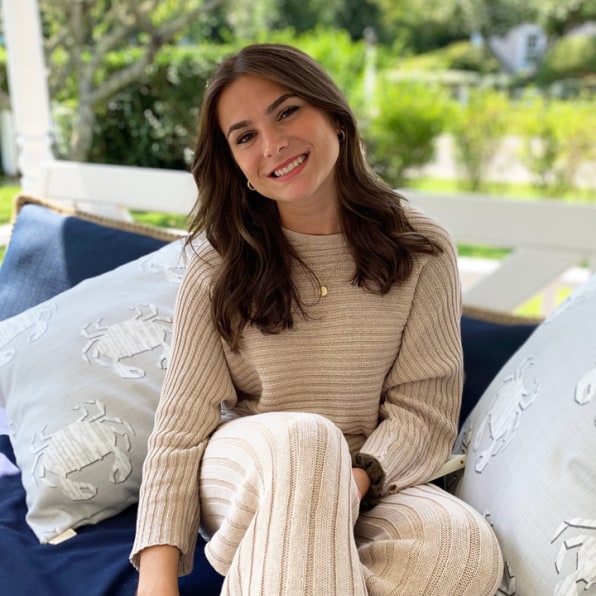 "That was the first time that I saw the insane impact that influencers and content creators have," West says.
CREATORS IN THE HOUSE
TikTok's popularity has upended corporate marketing departments to such a degree that they now include a whole new category of employee: creators. Until recently. the term has been used mostly to describe brand influencers and other social media generators who may get paid by brands to promote products and services. Now, creators work alongside people who are typically referred to as the "creatives," immersing themselves so deeply in the brand that they sometimes embody it, taking it in directions others would never think to go.
Teresa Pearson, Nerf's vice president of global franchise strategy and management, says that she pitched the idea of a hiring a "chief TikTok officer" to her superiors by explaining that TikTok is "a creator platform" and that "creators should be running these platforms for us."
Agencies are adapting, too. TBWA\Chiat\Day New York's Hamelle says that the company added creators to its team in 2022 to help make social content for clients including Nissan and Hilton. Those creators are intentionally positioned at the intersection of the production and creative departments so they can bring ideas to life from the beginning, adapt them quickly, and see them through to launch. (Some creators work for the agency full-time, while others continue pursuing their own projects.) Hamelle explains it as a "paradigm shift": before 2022, the approach to working with creators was more opportunist––now, it's an imperative.
The arrival of creators has even affected workflow, says W+K's Vitiello. A traditional advertising creative team might spend weeks developing a point of view for something like a multimillion-dollar Super Bowl ad, but social-first teams are able to experiment, sometimes bringing prototyped TikToks to an early pitch meeting. "One thing we learned quite quickly was that you can't really pitch a TikTok in a script. It just doesn't translate," Vitiello says. "Our M.O. is more to make the thing and then show it to people."
But this approach isn't always welcome, especially at first. Vitiello says that some brands are averse to giving their TikTok account a voice that differs from the rest of a campaign. "There was a degree of anonymity that platforms like Instagram and Twitter could afford a brand. It's harder to maintain that sort of smokescreen on a platform like TikTok where the whole thing is selfie cam," Vitiello says.
About a year ago, Simpson remembers seeing his face attached to several pitches being shared by Deutsch LA, the brand's agency of record. "It was a little jarring at first, for sure," recalls Simpson, who only thought he would be on the Taco Bell TikTok out of necessity during the pandemic. Now, he's embraced that he's "the guy," but he admits it was unexpected. "We have created this Milo Taco Bell character, almost."
UNDER PRESSURE
Parvez found herself in a mad scramble last May when, after eight months at the helm of Duo, she had a lapse in judgement: she made a snarky comment about Amber Heard that sparked nearly immediate criticism from disappointed followers. She quickly apologized on her personal account and deleted the comment from Duolingo's TikTok.
"I'm glad I was held accountable . . . I knew the right thing to do was to apologize, because that's what any normal human would do if you hurt someone's feelings," Parvez says. The company was supportive, Parvez says, and she received numerous encouraging messages from fellow employees––even one from the CEO. "It's a pressure that a lot of social media managers carry," Parvez says. "You're responsible for your company's comms, in a way, and people love to find one person that they can talk to or go after, good or bad."
It's no surprise that many social media managers face burnout. The stakes are high. A 2018 study that looked at brands affected by "social media firestorms" found that 40% had long-term negative consequences in terms of brand perception. One misguided post could easily light that spark.But one opportune post could also send views soaring and bolster the brand. It's up to the 20-something brand savants to know the difference.
"It's definitely intimidating to be the face of a global brand that has been around for 50 plus years," Jamison says of Nerf. "Even [when]not at work or creating TikToks, that's on my mind. I get recognized in public. That's something that I always need to uphold . . . that reputation of the brand."  
ENDS
—
This article first appeared https://www.fastcompany.com/
Seeking to build and grow your brand using the force of consumer insight, strategic foresight, creative disruption and technology prowess? Talk to us at +971 50 6254340 or engage@groupisd.com or visit www.groupisd.com/story