Trying to find the right influencer can be time consuming but it is achievable for many businesses. Unlike some traditional advertising – which can feel like throwing a line into a vast ocean – influencer marketing is a way to pinpoint your target demographic in an authentic way.
Marketing speaks with Maree Sortino, a social media strategist and the founder of The Social Secret about some influencer marketing trends that businesses of all sizes can tap into.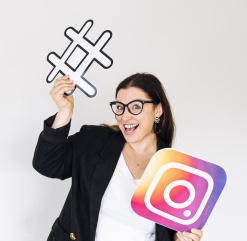 Sortino started her career in marketing and advertising before "falling into corporate land" and eventually finding her passion for social media. Now she helps businesses navigate the complexities of Facebook and Instagram. As a natural extension of social media, Sortino is involved in influencer marketing, calling it an "amazing avenue", not just for big businesses who are engaged with top agencies, but also for small and medium-sized enterprises (SMEs).
"Often working with social media influencers or jumping on board with online trends is seen as an overwhelming or a costly effort and many businesses feel they lack the resources to thrive," says Sortino.
But with the right guidance, she believes that business owners can create an influencer marketing strategy that is going to work for them and achieve brilliant results. Sortino has even run courses on the topic aimed at "keeping influencer/brand relationships equally as respectful and professional, as they are mutually beneficial and profitable".
For most SMEs it's about covering the basics: what influencer marketing actually is, sourcing the right influencers for the brand, defining a target demographic, writing briefs and understanding codes of conduct and guidelines that exist in Australia.
Watch this space
Like everything else, influencer marketing has certainly changed a lot post-pandemic. More people than ever were on devices and spending time scrolling social media during global lockdowns. According to Hype Auditor, there were 10,640,000 Instagram users in Australia in November 2020, accounting for 41.3 percent of the population.
Despite a highly engaged local influencer market that seems to be growing each year, advertisers and marketing budgets were precarious during 2020. Sortino says a sense of insecurity might have caused Australian influencers to take on work from brands that they might usually engage with. On the other side of the coin, the industry shake up encouraged some brands to enter the space for the first time and utilise the power of influencers.
Influencer marketing #trends 
Marketing asked Sortino about some of the top trends to emerge from this new era of advertising. In many ways, the rapid changes have made brands and consumers alike reevaluate the role of the influencer overall. During the disruption, the glamourous industry faced a new level of scrutiny and backlash and there has been an emphasis on striking the right tone.
Sortino believes this has encouraged businesses to put a lot more thought into who they want to use, making sure partnerships are a natural fit for their products and brand. Discerning consumers don't want to see a seemingly random sales post. They are much more interested in a pairing that feels genuine.
To achieve the ever elusive 'authenticity' that consumers crave, marketers need to be selective and not simply engage an influencer who has the largest following. A brand or marketer can do some vetting or checks to ensure they are engaging with the right influencer. One simple step might be monitoring how the influencer engages and communicates with their audience.
Sortino shares an example of a small business that she was working with that had engaged a well-known local model to do some posts for their physio business. Unfortunately, the posts gained almost no traction. It turns out the model had a mostly international following – many of whom could not attend the physio if they wanted to.
"This particular physio worked a lot with moms. And so I said, why don't you reach out to maybe an obstetrician whose target demographic is moms?"
Sometimes Sortino says it's about thinking out of the box and widening our scope of what an 'influencer' is.
In another example, a local restaurant chain that had shut down during lockdowns had to quickly establish an online delivery service. After some research, they sent $40 worth of pasta each to some local influencers with an engaged following, who included the product in Instagram stories, and "within 24 hours, they were at $10,000 worth of sales". This, Sortino says, gave the business the confidence to invest budget into influencer marketing moving forward.
"The definition of an influencer, if we bring it back to its core, is someone that is likable and approachable – someone that we want to follow, because we want to see what they're doing. We don't want every post of them flogging a product. We actually want to see what they're doing out and about and how they live their lives, as well as what they wear and what products they use," she adds.
Another trend that Sortino has noticed is a new tendency to use the same influencer for a number of campaigns over an extended period. One advantage of this, she says, is that the influencer can become somewhat emotionally invested in a brand's products or services over time.
Macro, micro or nano?
Sortino has recently seen an industry shift towards 'nano influencers'. Nano influencers have a small following of somewhere between 1,000 to 7,000 followers. They tend to have stronger connections with their audience, making them a good fit for some brands.
"I find this group of people incredibly easy to work with and really vibrant and happy and willing to help out as much as possible. They are extremely authentic with that audience too – they really take the time to encourage that flow of conversation in the comments."
While the nano influencer trend is one to watch, Sortino believes overall we are moving away from obsessing over follower counts and looking more towards relevancy and engagement.
"At the end of the day, I hate labeling. It's a number and what it comes down to is what results can we get, whether it's from someone with 50,000 followers or 5,000 followers – so let's stop looking at that. And let's just call it an authentic influencer versus a non-authentic influencer."
Ultimately authenticity is pending on the relationship between the influencer and the advertiser. Good communication is key. An important part of this dynamic is the influencer understanding the product or service and being properly briefed on how to talk about it. That said, a brand must also be collaborative in its approach.
"Sometimes I think the influencer needs to educate the brands in terms of saying, 'Well, you've come to me for a reason. I know and understand my audience best and I think that this is what's going to resonate with them and work better than the script that you've given me.'"
This article first appeared in www.marketingmag.com.au
Seeking to build and grow your brand using the force of consumer insight, strategic foresight, creative disruption and technology prowess? Talk to us at +971 50 6254340 or mail: engage@groupisd.com or visit www.groupisd.com/story