From AI-enhanced creative tools to new privacy powers, these are the best new apps of the year.
While 2020 and 2021 brought us plenty of apps that capitalized on the remote work boom, 2022 feels a bit like a return to normalcy.
The best apps of the year spanned a wide range of categories, including some surprising new ones. We've seen a boom in AI tools for creatives, for instance, along with more ways to take control of your content and privacy. Clever productivity tools haven't gone away either, with several great new apps for getting things done.
As with previous years, this list focuses on apps, websites, and extensions that either launched over the past year or received substantial new updates. With any luck, it'll help you discover some gems you'll use all the time. Here are the best new apps that 2022 had to offer.
PRODUCTIVITY BOOSTERS
Fling files around: Cloud storage is great and all, but sometimes you want an even simpler way to move files between a pair of networked computers. With Payload, you can drag and drop files on one machine, then accept the delivery on another. The app uses a local Wi-Fi connection to transfer them in a hurry—no logins or clunky sharing links required. For Windows, Mac, and Linux.
A more useful lock screen: The best use for Apple's lock screen widgets in iOS 16 might just be the simplest. With Lock Launcher, you can add quick-launch buttons for your favorite apps, websites, or iOS Shortcuts. Just head to the "Widgets" tab, set up a widget, then add it to the lock screen. A $5 one-time purchase lets you use more than two widgets at a time. For iPhone.
More flexible forms: If Notion offered a form builder, it'd probably look something like Tally. Starting with a blank page, you can hit the "+" button to add headings, text entry fields, multiple choice questions, images, video embeds, and more. The result is a highly customizable form builder that's still manages to feel simple. For the web.
Shortcuts to anywhere: For Mac diehards who've fully embraced the keyboard shortcut lifestyle, Raycast will feel like a big leap forward. It replacement for Apple's Spotlight search has a built-in calculator, text expander, window resizer, and toggles for all kinds of system settings. It also launched an extension store this year, turning it into a command center for third-party services such as Notion, Spotify, Zoom, and YouTube. For MacOS.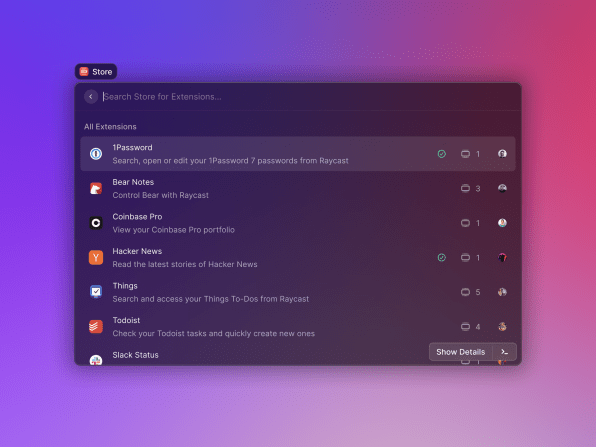 Own your notes: If you don't trust online tools like Notion or Evernote with your notes, Obsidian might be just what you need. Obsidian stores your notes as local Markdown files, so you're always in control of your own content, and you can still sync notes via any cloud storage provider (or Obsidian's own Sync service). Version 1.0, out this year, overhauled the editor so you needn't be a Markdown whiz to use it, and the service continues to get better with a wide range of themes and extensions. For Windows, Mac, Linux, iOS, and Android.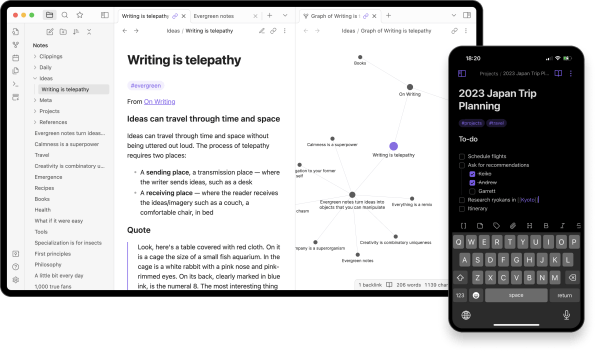 Track your packages: While package tracking apps abound, Parcel has an especially slick integration with Amazon, so your purchases appear in the app automatically. A slew of updates this year included Siri integration for asking where your packages are, lock screen widgets, and the ability to sync delivery dates to your calendar. For iOS and MacOS.
Rethinking the browser: As one of many attempts to reboot the web browser, Arc is brimming with smart ideas. You can sort tabs into folders, create separate groups of tabs called "Spaces," and arrange notes, links, and text onto sharable spaces called "Easels." Its best features, however, are much simpler, like the playback controls that automatically pop up on music sites, its one-click screenshot tool, or the ability to quickly drag any tab out into split-screen mode. For Mac (requires invite).
Arc
SMARTER SOCIALIZING
Widget-based photo sharing: You don't need a full-blown social network just to share photos with the folks you care about. With Locket Widget, photos of your friends or family members can appear directly on your home screen, and you can tap on the widget to take your own picture and send it back. It's a neat way to send positive vibes with even less friction than Instagram or Snapchat. For iOS and Android.
A calmer feed: Although it's been around for years now, Mastodon saw its biggest growth spurt ever this year as Elon Musk took a hatchet to Twitter. The federated social network encourages more measured conversation—for instance, there's no equivalent to quote tweeting, by design—and version 4.0, out this year, introduces some features Twitter still lacks, such as the ability to to follow specific hashtags and edit posts without a subscription. For web, iOS, and Android.
More productive meetings: If you can convince your colleagues to get on board, Vowel promises to make meetings more enjoyable with preset agendas, a shared scratchpad, and the ability to tag interesting insights in real time. When the meeting's over, you'll get a full transcript with links to all your highlights, plus the ability to rewatch any part of the video by clicking on the text. For web, iOS, and Android.
HEALTHIER LIVING
Sit up straight: Instead of slouching at your desk all day, plug in a pair of AirPods and install PosturePal, a free app that uses the gyroscopes in Apple's latest earbuds to determine whether you're sitting up straight. You can then schedule reminders to start a 10-minute posture session, and the app will honk at you when you slump too much. For iOS.
Mindfulness, plus music: For a unique spin on the usual mindfulness apps, check out Spoke. Instead of straightforward meditative exercises, Spoke combines motivational poetry and visualizations with laid back grooves, which it developed in consultation with a team of scientists. Just tell it what mood you're in, and start listening. For iOS.
Pace yourself: If you're feeling annoyed by the Apple Watch's exercise rings, Gentler Streak may be the antidote you're after. Instead of constantly pushing you to meet daily goals, the app takes a more relaxed approach, building in rest days and working to understand when you've pushed too hard or need a little extra motivation. The goal is to build lifelong fitness habits regardless of whether you've filled an arbitrary meter. For iOS.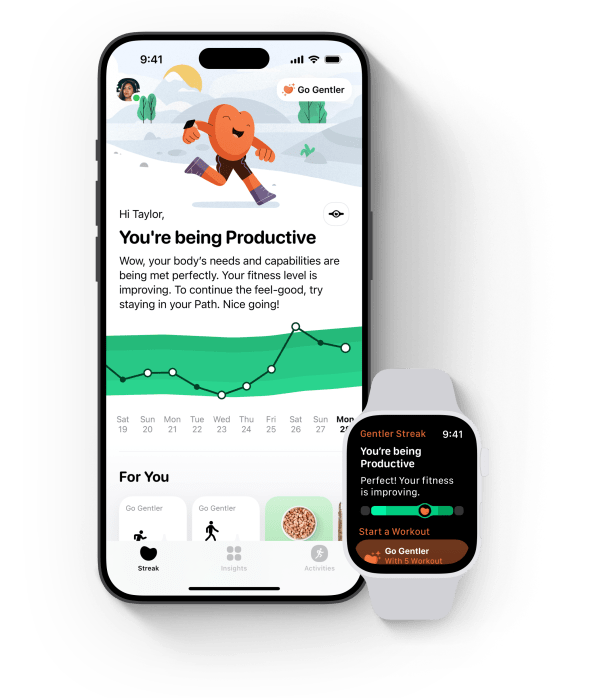 THE AI TOOL BOOM
So real it's scary: For all its flaws—and there are many—ChatGPT feels like the start of a sea change in how we interact with computers. Ask this AI chatbot a question, and it'll give you a natural language answer. Ask follow-up question, and it'll factor in the context of everything you discussed previously. Ask for a specific type of answer—for instance, in the style of a cat or a hilarious joke—and it will dutifully oblige. It's a wildly impressive feat of natural language processing, even if it's still far off from having much practical use. For the web.
AI art in an instant: Of all the AI art tools that popped up this year, Craiyon (formerly DALL-E Mini) is the most accessible. Just type in the kind of image you want to create, and you'll get a handful of interpretations a minute or two later. You can then download the individual images or get a snapshot of all the results. For the web.
Offline AI art: As an alternative to online text-to-image tools, check out DiffusionBee. The free app for MacOS (and coming soon to Windows) lets you generate unlimited quantities of AI artwork on your own computer, and, at resolutions up to 1024 x 1024, besting what you'll find on the web. You can also use text prompts on existing images to apply AI effects, remove objects from a photo, or expand the borders of an image. If nothing else, it's a great way to get your money's worth from Apple's M1 chips. For MacOS.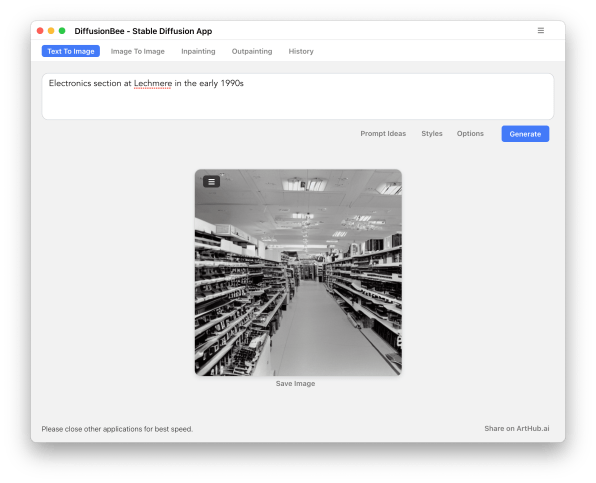 AI-enhanced video editing: While Canva is known primarily for its presentation design tools, its video editor might be even better. Just drag your own videos or images onto the timeline, then add text, stickers, transitions, background music, or your own voice. Its most impressive feature, however, its background removal, which puts your video subjects on a green screen with one click. For the web.
A big bag of creative tools: Picsart's Quicktools website was already a great resource, with free tools such as a video trimmer, a PDF converter, and a profile picture maker. Now it's getting into the AI enhancement space as well, with a background remover and replacer, an image sharpener, and a suite of AI copywriting tools. They're all free to use with no login required. For the web.
PRIVACY ENHANCERS
An encrypted email contender: For anyone trying to de-Googlify their lives, Skiff is an increasingly intriguing Gmail alternative. It offers a sharp design with no ads, plus end-to-end encryption for emails to other Skiff users, and its generous free tier includes 10 GB of storage. While Skiff Mail was bare-bones at launch, it has since added new features such as calendar integration, custom domains (for paid subscribers), and protection against creepy email trackers. For the web, iOS, and Android.
Anti-tracking for Android: If you're an Android user and are jealous of Apple's App Tracking Transparency controls in iOS, DuckDuckGo can help. With App Tracking Protection on Android, DuckDuckGo quietly blocks connections to known tracking sites, so apps can't share personal details behind your back. It's even more aggressive than Apple's privacy protections, and it gleefully rats out the worst offenders with detailed reports on their attempts to track you. For Android.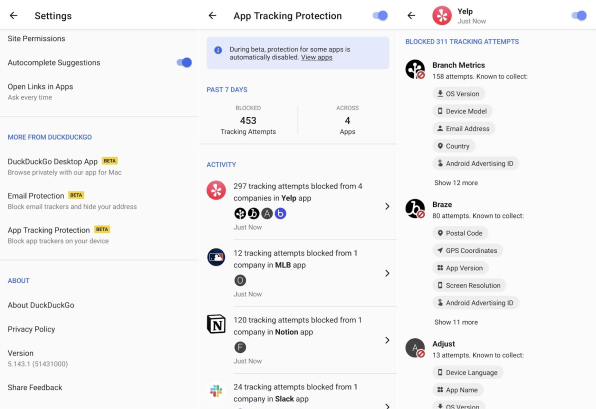 Hide faces in photos: An app that does one thing and does it well, MaskerAid offers a quick way to slap emojis on top of people's faces in photos. That way, you can share photos to social media while protecting the privacy of kids, strangers, or anyone else you don't want to make identifiable. For iOS.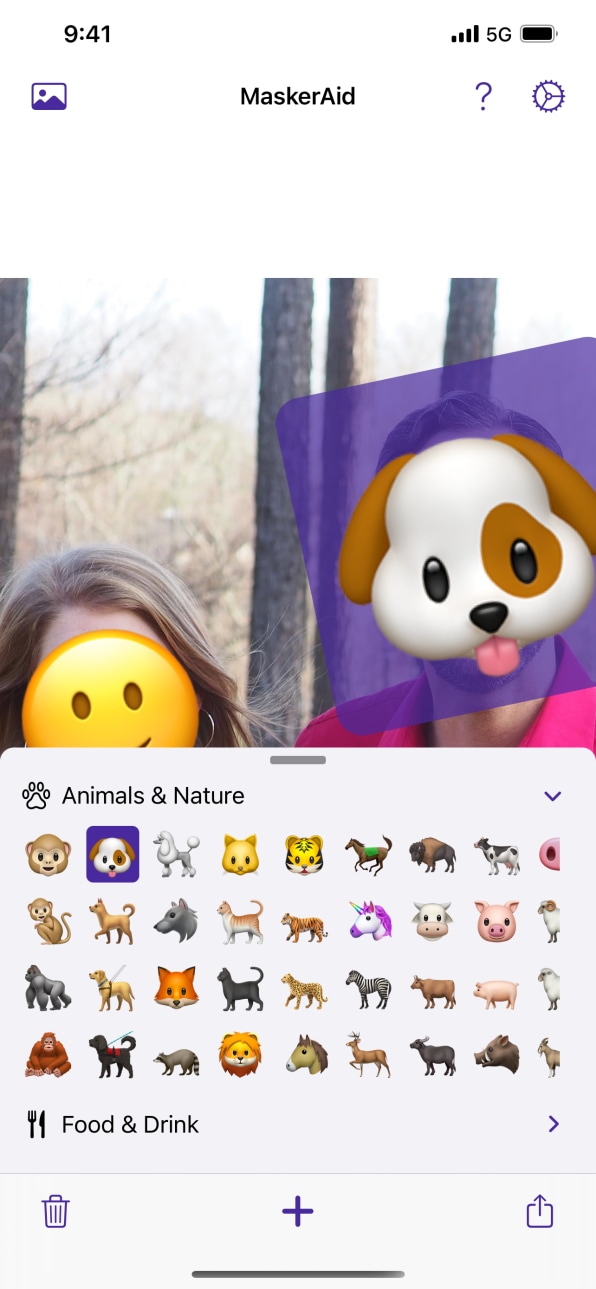 CLEVER CONSUMPTION
YouTube, improved: If you don't mind using Safari instead of the actual YouTube iOS app, Vinegar makes your video-binging experience even better. This $2 Safari extension replaces the standard YouTube player with a minimalist HTML version. In doing so, it removes ads, enables picture-in-picture, and even allows for background audio playback, all without a YouTube Premium subscription. For iOS and Mac.
The universal reader: Got an Android phone? With Google's Reading Mode, you open articles in a reader-friendly view using a customizable shortcut, such as swiping up with two fingers or holding the volume up/down keys. The app lets you adjust the reading view's font size and colors, and it can read articles aloud at adjustable speeds. It's more powerful than the reading modes built into some web browsers, plus you can use it in more apps. For Android.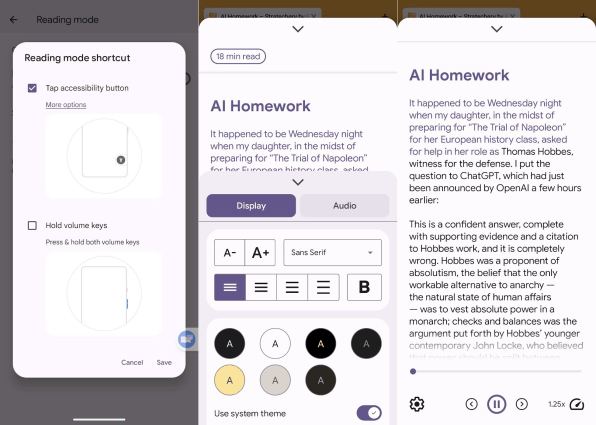 Better music controls: For Apple Watch users, Now Playing Plus is a little app that solves a longstanding problem: There's no circular or corner complication for the "Now Playing" menu that works with all audio sources. (Apple's own small complication only links to Apple Music.) By adding Now Playing Plus to your watch face, you'll have quick access to audio controls no matter which app you happen to be using. For Apple Watch.
Real nature sounds: While ambient noise apps are in vast abundance, none are quite like Earth.fm. This free website lets you listen to recordings from specific forests, deserts, marshlands, and other natural environments from around the world, with an interactive map for choosing between them. You can also install the browser extension for radio-style listening. On the web and the Chrome Web Store.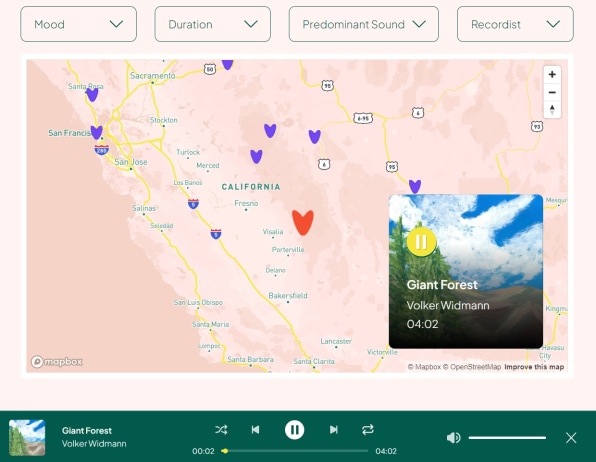 ENDS
—
This article first appeared https://www.fastcompany.com/
Seeking to build and grow your brand using the force of consumer insight, strategic foresight, creative disruption and technology prowess? Talk to us at +971 50 6254340 or engage@groupisd.com or visit www.groupisd.com/story