To keep customers coming back, stores have to do more than provide Instagrammable moments.
If you're in Dallas and feeling peckish, you might stop by a sleek, industrial store that sells made-to-order tacos. Conveniently, it also has a wine cellar, a nitro brew coffee bar, and a prepared-food fridge full of healthy snacks, like yogurt and fruit. The name of this chic new retail concept, you ask? 7-Eleven.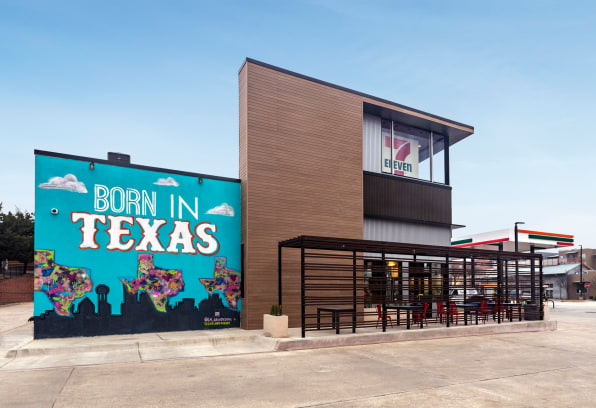 For two decades, the 7-Eleven store experience hadn't changed. Harsh florescent light exposed stores that could be unsafe and unsanitary, stuffed with junk food and Slurpee machines. But today, consumers have higher expectations than ever about brick-and-mortar stores, and 7-Eleven knows it. It's hired design firm CallisonRTKL to develop new store concepts, which have been unveiled in Dallas and Washington, D.C., and will eventually be rolled out across the brand's entire fleet of stores. "Consumers can now buy everything online," says Carlie Russell, a senior designer who worked on the project. "Even convenience stores need to step up their game to get people to come in."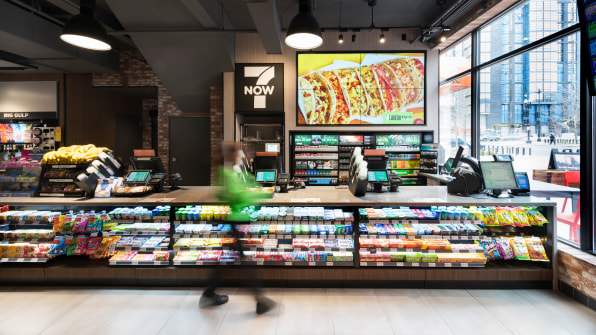 7-Eleven's efforts to create more compelling stores is part of a broader trend. COVID lockdowns forced consumers to shop online and many have continued to do so as the pandemic has receded. As 2023 dawns, brands across the industry—from convenience stores to luxury labels—are working harder than ever to entice people back into physical shops. To woo them, brands are going beyond shopping and trying to offer other experiences, from dining to art to music. And experts believe that retailers that don't offer interesting, exciting in-store experiences will struggle in the years to come. "This is great news for consumers," says Dan Frommer, founder of The New Consumer. "We're just not going to put up with subpar stores anymore."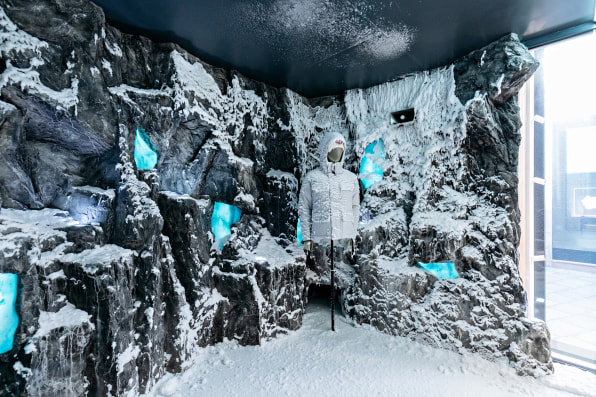 EXPERIENCES WITH A PURPOSE
Experiential retail isn't new. Before the pandemic, digitally native startups realized that their customers could easily buy their products online, so they had to create more exciting retail concepts to convince them to shop in person. Glossier created all-pink stores that were a hit on Instagram; Everlane offered free lectures in-store; Warby Parker did book launches.
When the COVID hit and retail came to a standstill, this wave of creativity stopped, too. But the pandemic is receding. Frommer's research for his annual Consumer Trends Report reveals that consumers are no longer worried about COVID and are eager to shop in person again. As stores reopen, they have an opportunity to reimagine what their stores can be, and the first wave of experiential retail offers a template.
But while retailers need to provide interesting, elevated experiences in store if they want to stay competitive, Frommer says they need to offer more than gimmicks. An Instagrammable store design won't keep customers coming back, nor will flashy, but unhelpful technology like robots that greet you. Experiences need to be useful and solve problems for customers. He points to a store like Eataly that creates an inviting environment where people can explore new brands and stop for a meal. "They really understand what their customer is looking for," he says. "We want to sample great new products and they make that experience fun."
STORES OF THE FUTURE
Canada Goose has nailed this formula by creating stores that are interesting and actually solve problems. The brand shifted from a wholesale to a direct-to-consumer approach seven years ago, and now, 70% of its sales come from its own channels, including its nearly 50 stores, says Carrie Baker, Canada Goose's president.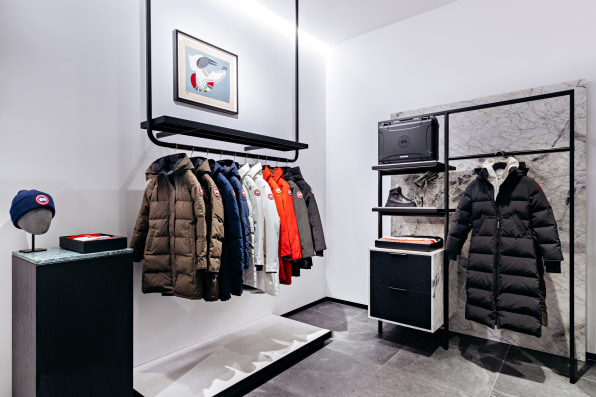 The brand is known for its luxury outerwear, designed for the coldest climates on the planet. But post-pandemic, it is expanding its retail footprint to the West Coast, where the weather is milder. This coincides with the launch of new products for warmer climates, like lightweight down. But Canada Goose also has Cold Rooms in store, where customers can put on a coat in glass cube where temperatures drop down to -10°F and there's a daily snowfall. It's a fun experience, but it also helps customers decide if they want to buy a coat for an upcoming trip.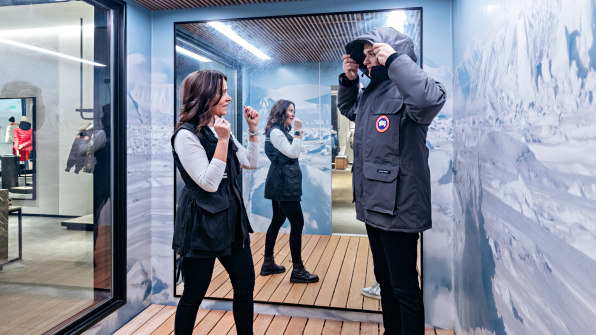 Canada Goose realizes that customers aren't going to buy an expensive new coat regularly, so it sees its stores as a way to keep customers connected with the brand, even when they're not actively shopping. This realized led the company to start designing each store like an art gallery; they've invested heavily in paintings and sculpture that helps tell the company's story, and particularly its relationship with the Inuit people, which first invented the parka. "We do have the occasional art connoisseur come in just to take in the collection, which we welcome," Baker says.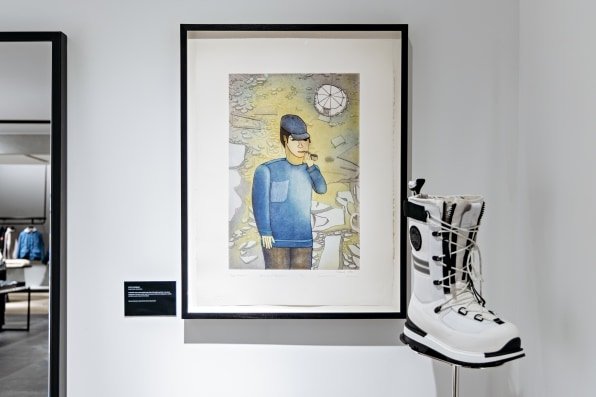 Canada Goose now has 400 pieces of art in its permanent collection, as well as temporary installations, all by indigenous artists. The artwork travels across the brand's 45 stores, so the collection in each store changes periodically. This gives customers a reason to stop by to explore what's new.
EVOLVE, OR GET LEFT BEHIND
On the other end of the spectrum, 7-Eleven has also been on a mission to keep customers coming back—and sticking around. As a convenience store, the brand relied largely on meeting customers most basic needs: They'd pop in to pick up cigarettes, water, or a hot dog. But Carlie Russell, the designer who worked on the Dallas store redesign, says the brand recognized that its stores weren't particularly welcoming. "Even convenience stores are now investing in their in-store experiences," she says. "7-Eleven realized that it had to rethink its stores now, or it would fall behind."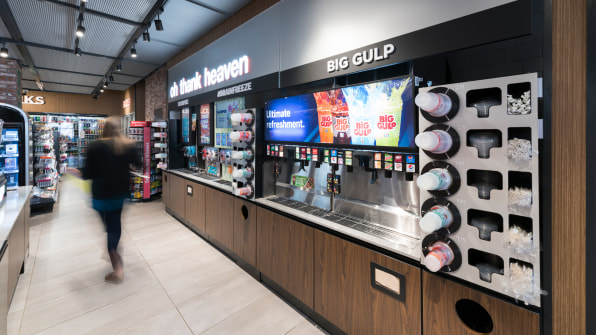 Russell says that having a beautiful, well-designed store that makes customers feel comfortable is now a basic requirement. The designers created a space with durable, industrial materials that also look chic, like concrete floors and walls made of brick and wood. The stores are also open late at night, so sometimes customers can feel unsafe; the designers placed all fixtures below eye level, so employees can see what is happening across the whole store, and located women's restrooms close to the registers, where employees can keep an eye on people going in and out.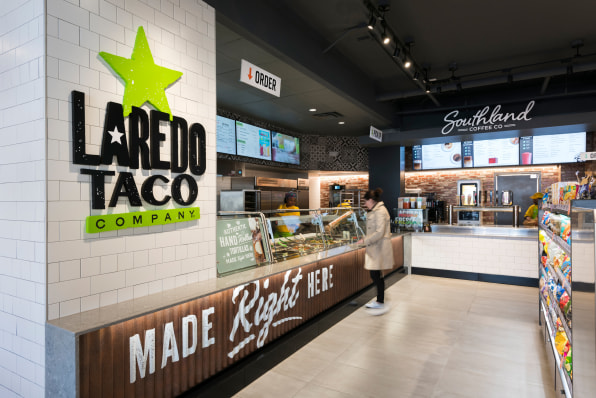 But Russell says that the goal was to create such an inviting space that customers would want to hang out for a while. And this meant offering more than traditional convenience items. This is why 7-Eleven has partnered with a Mexican restaurant, Laredo Taco Company, to make freshly prepared food, and created indoor and outdoor seating areas. It has also created stations where people can create customized drinks, from nitro brew coffee to iced fruity beverages. (It's a healthy new take on the Slurpee.)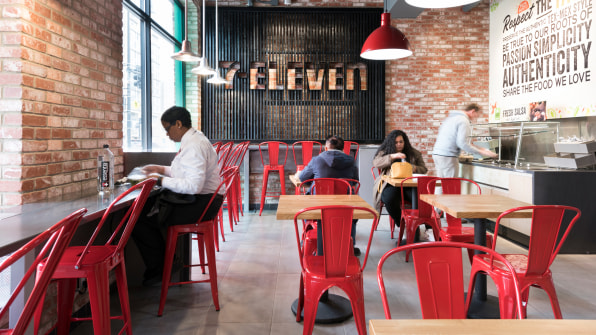 After years in lockdown, many of us want to shop in stores again. The good news is that brands are just as eager to have us back and are working hard to make the in-store experience even more enjoyable. "The industry is getting better are meeting consumers' needs," says Frommer. "And for those of us who love shopping, that's a great thing."
ENDS
—
This article first appeared https://www.fastcompany.com
Seeking to build and grow your brand using the force of consumer insight, strategic foresight, creative disruption and technology prowess? Talk to us at +971 50 6254340 or engage@groupisd.com or visit www.groupisd.com/story