Sustainability is becoming the defining paradigm for business. Is your leadership team ready?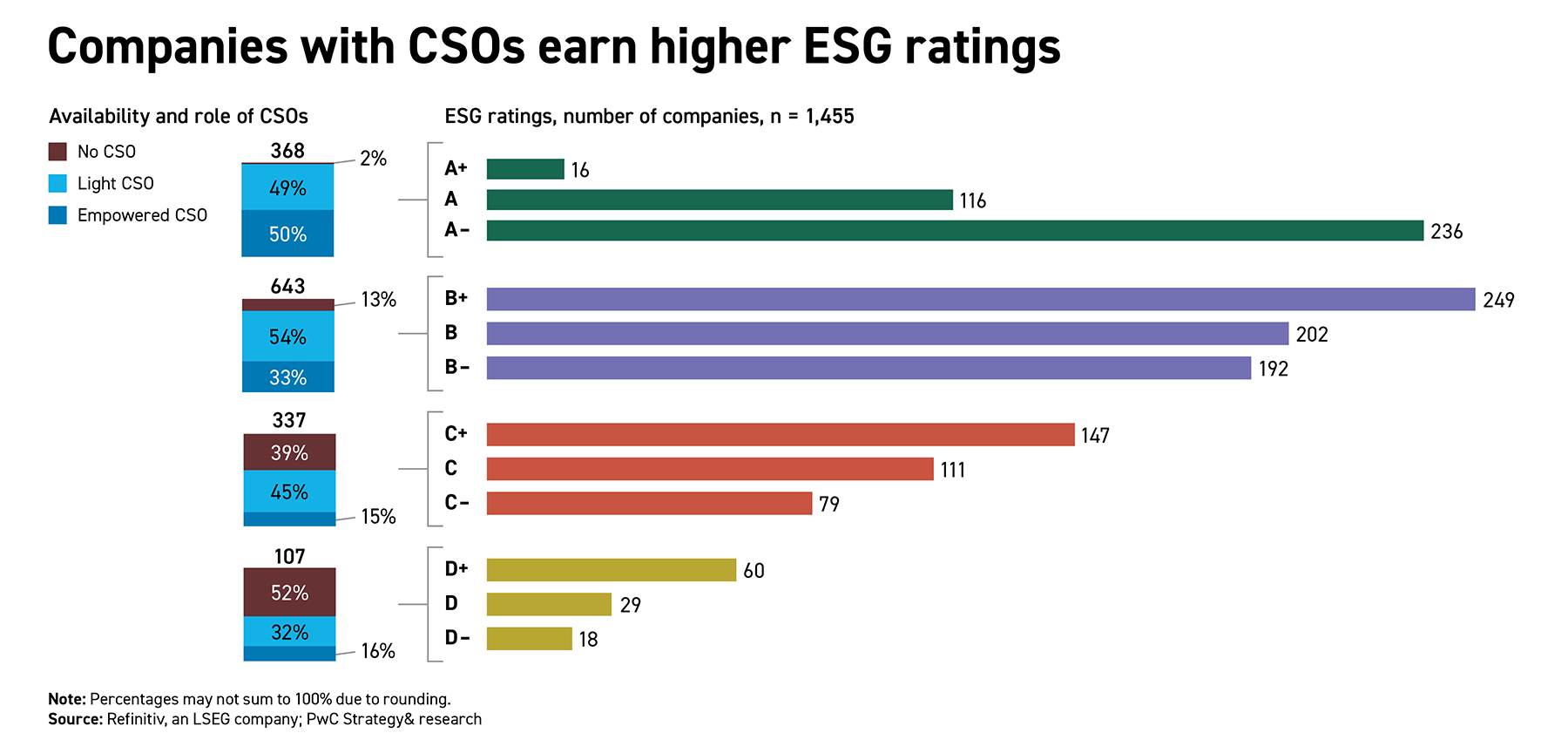 How companies can empower CSOs
Today's CSOs must be able to understand the interconnectedness of all ESG issues, because they touch upon every aspect of the organization's sustainability mission. In scanning the horizon for ESG risks and opportunities, CSOs develop a closer connection to strategy, risk, and financial management. "The corporate sustainability team's role is to always be one or two steps ahead of the businesses in a healthy way," says Achim Hupperts, vice president sustainability at the global nutrition, health, and bioscience company Royal DSM, "and that creates a tension pulling the businesses out of their comfort zone."
Empowering CSOs often means elevating the role within the organization—both to get the attention of those at the top and to carry the C-suite's imprimatur across the organization. It also means enabling CSOs' efforts with the kind of hard data and key performance indicators (KPIs) that helps managers, investors, and internal stakeholders better understand the links among ESG risks, strategic planning, and value proposition. To do this requires escalating efforts to integrate ESG reporting into traditional financial measures.
First things first: Hiring a CSO
Holding together a company's sustainability agenda when every stakeholder along the value chain has different, new, and dynamic expectations takes a special blend of skills and expertise. CSOs need to balance innovation, risk mitigation, sustainability, and business challenges—and they need to be adept at introducing change to an organization, given how many parts of a company will be influenced.
CSOs need to balance innovation, risk mitigation, sustainability, and business challenges—and they need to be adept at introducing change to an organization.
In our review of the backgrounds of more than 160 existing CSOs, we found that approximately a third came to their leadership position from an existing corporate sustainability department or from an outside organization related to sustainability (see chart below). Around 30% have a background in strategy—e.g., as consultants or within strategy departments—or experience in the company's business lines or support functions. Roughly one-fifth of the CSOs we reviewed combine these backgrounds of sustainability and business, which shows the importance of CSOs bridging those two fields. Only slightly more than 15% of CSOs came from professions such as legal, communications, corporate citizenship, or investment management.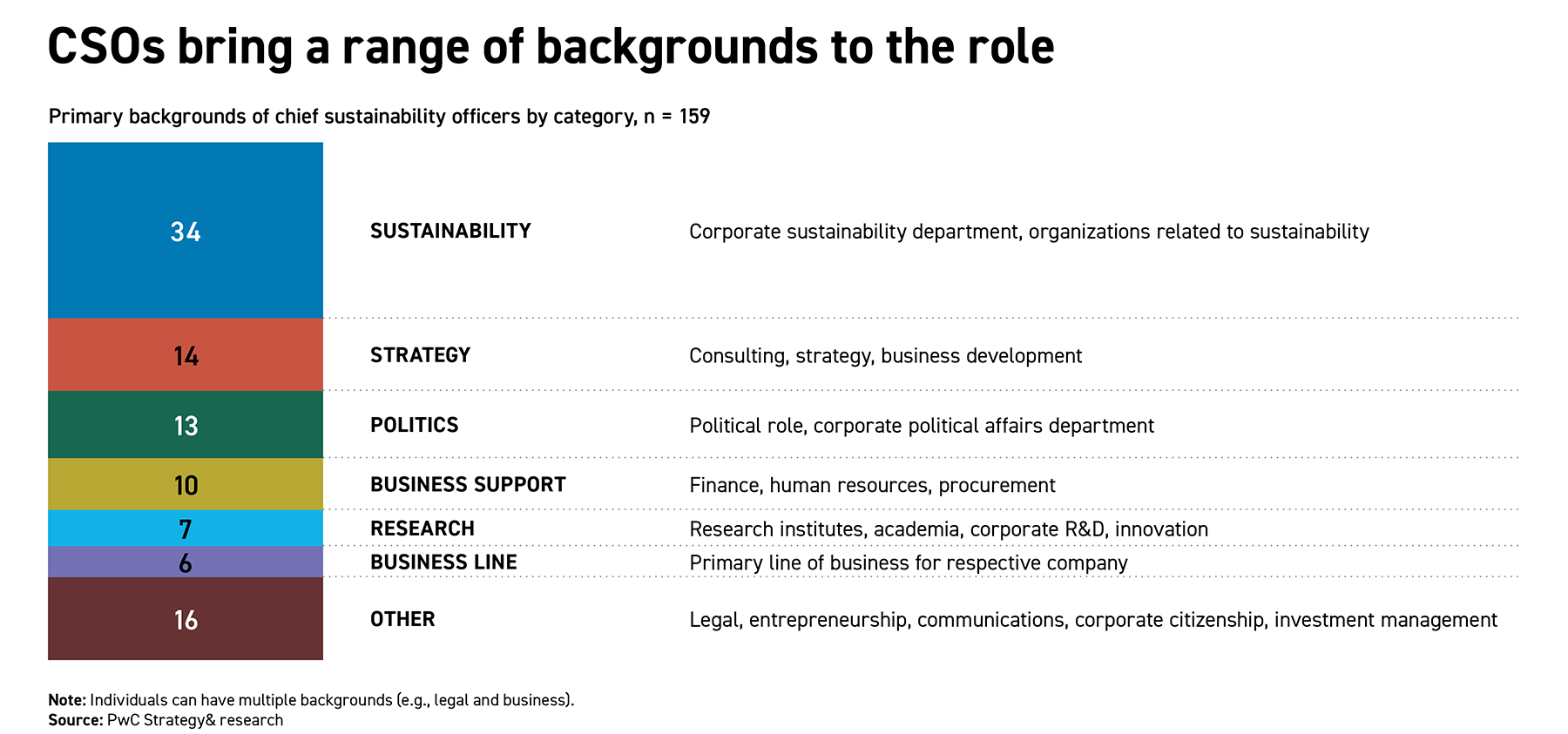 Whatever their background, today's CSOs face demands that transcend merely handling compliance and reporting on what used to be considered nonfinancial considerations. To participate in strategy discussions, they need a thorough understanding of the business—particularly of the areas in which sustainability and profitability are complementary or contradictory—a knowledge of sustainability practices relevant to their industry sector, and strategic foresight. And because meeting ESG goals and performance metrics will affect not only the products and services offered but also the ways in which employees work, CSOs must be adept at implementing change. This requires listening skills to understand the trade-offs and intricacies across departments, as well as the ability to influence stakeholders in order to reach a common understanding and shared objectives.
Integrate CSOs directly into the C-suite
CSOs with a direct connection to the C-suite are the most influential, because only at this level do they have the access needed to alert senior managers to the risks and opportunities of emerging ESG issues. Moreover, integrating them into the C-suite can reassure investors: two-thirds of respondents in PWC's 2021 Global Investor Survey say this would make them more confident that a company can manage its ESG risks.
MORE PWC INSIGHTS
Because it's rare to find so many skills combined in one person, organizations have two general choices: they can bring in a sustainability expert who also has a generalist's strategic mindset and have them report directly to the C-suite, or they can bring a senior manager into the C-suite and support them with a sustainability expert.
We found few companies whose CSOs currently have that organizational stature. Only three in ten companies in our analysis had a formal CSO role, and one in five had no CSO at all. Moreover, roughly half of all CSOs are two or more hierarchy levels below the C-suite, which means they lack direct boardroom access to influence and support a sustainability agenda. Finally, a significant number of companies have executives in CSO-light positions with no input into the organization's overall sustainability strategy. This includes, for example, those who focus more narrowly on specific aspects of sustainability, such as corporate social responsibility (CSR) or health, safety, and environment (HSE) roles (see chart below).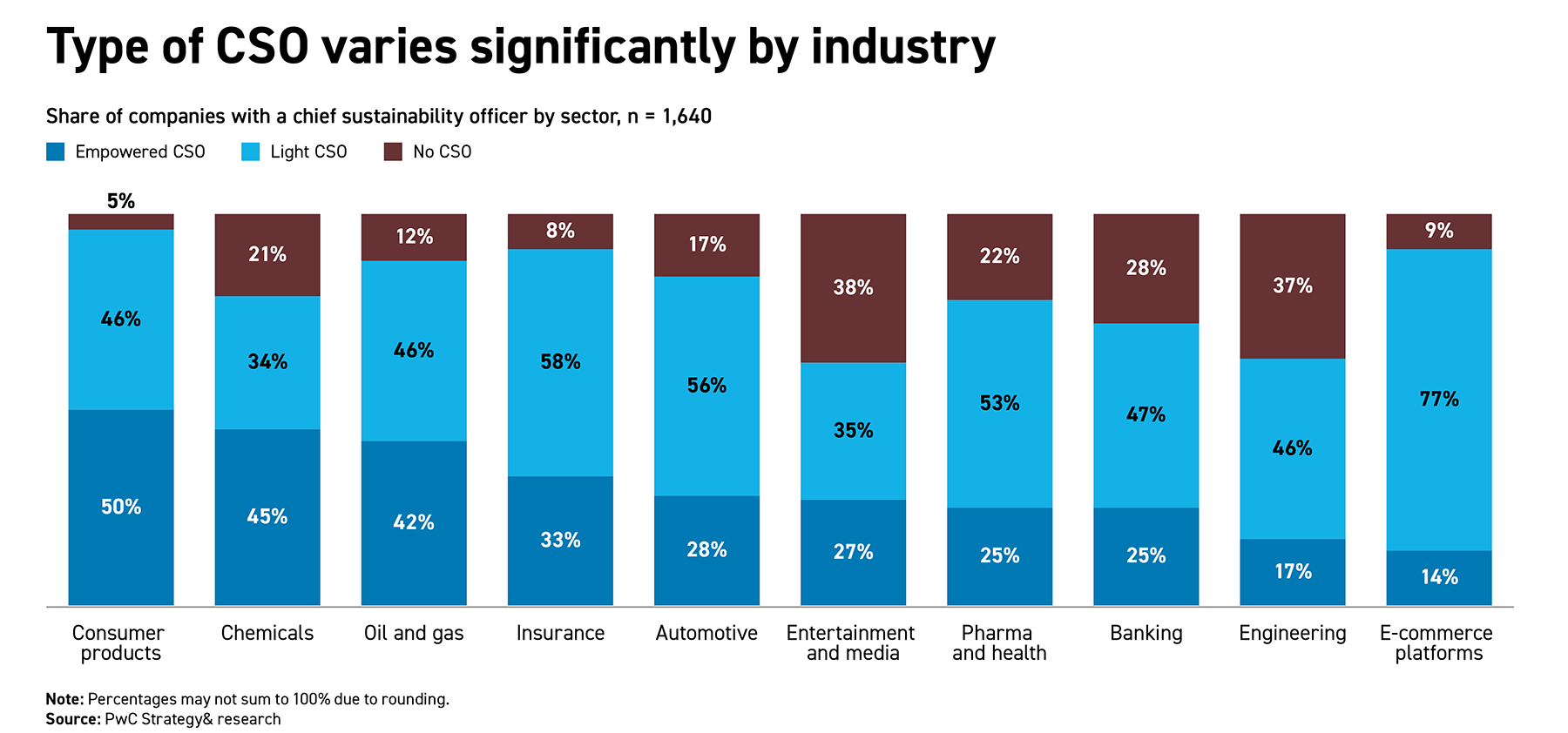 Establishing the role at the C-suite level also confers on CSOs the authority to influence strategy and operations in a way that delivers true value to the business and society. And it sends an important signal across the organization that sustainability is as crucial to a company as, for instance, its finances or human resources. As Esther Verburg, EVP of sustainable business and innovation at Tommy Hilfiger Global, told us, "That makes a huge difference, because it means that we don't need to sell sustainability anymore. It is already decided that this is embedded directly into our business strategy and at the core of everything we do."
Accelerate ESG reporting
An empowered CSO will depend heavily on performance metrics, both to inform investors and to influence internal stakeholders. And the pressure on companies to combine ESG performance metrics with traditional financial disclosures is only going to grow. Nearly 80% of investment professionals who participated in our Global Investor Survey highlighted ESG risks as a major factor in their evaluations, and nearly half would divest companies they believed were failing to deliver on ESG commitments. We've already heard from CEOs who describe investors clamoring for an ESG specialist to participate on earnings calls to break down strategy-related ESG performance indicators, provide transparency into financial risks related to sustainability, and quantify their value.
It's a natural role for CSOs to play. Working with chief financial officers, they can assess, quantify, and report on ESG impacts and value. Providing transparency and tracking performance in this way not only moves CSOs further into the inner circle of strategic and operational decision-making within the organization, but it also provides compelling evidence for influencing operations company-wide. For example, a major KPI might be the level of carbon emissions related to manufacturing a product or providing a service. We understand from our interviews that establishing this "carbon accounting" is fiendishly difficult, especially when distinguishing between Scope One emissions directly related to a company's economic activity, or indirect Scope Two or Scope Three emissions. This is one area in which an empowered CSO can help by "connecting the dots" throughout the organization, making sense of the data, and setting appropriate incentives to boost the ESG transformation. Revealing the full environmental and social cost of producing a product or service helps the organization identify its sustainable value proposition and incorporates sustainability into strategy and operations.
To get there, companies may need to accelerate their commitment to and investment in ESG reporting. Those that fail to do so may already be finding it harder to access finance, get insurance (due to supply chain and reputational risks), and retain their "license to operate" as governments flesh out their sustainability pledges and make them law. Without a CSO to challenge the status quo and quantify the financial impact of climate-related risks or opportunities, companies may miss important trends and find themselves playing catch-up with competitors in the future. An executive with a sustainability mindset might make the difference between an organization that doubles down on increasingly outdated carbon-intensive technologies and one that invests in emerging sustainable ones.
How CSOs can extend their own influence
The role of the CSO will continue to grow and evolve as net-zero deadlines approach, standardized reporting metrics emerge, and investors demand transparency and accountability. Even CSOs who already have a direct connection to the C-suite will need to adapt and extend their networks to support the sustainability transformation throughout their organization. CSOs with a limited remit need to extend their influence to meet the growing challenge.
Lead from the center—but delegate. As companies continue to integrate sustainability into their strategy and operations, the CSO's knowledge and expertise around ESG must spread through the organization. Initially, that favors a more centralized approach, as any lack of familiarity with ESG in the organization requires CSOs and their teams to spread knowledge and act as subject matter experts. Companies at the beginning of their ESG journey in particular need a CSO who does networking and advocacy work. This includes getting involved with industry alliances and finding external allies who can support the organization's sustainability transformation.
Yet as an organization becomes more familiar with ESG topics, that centralized approach needs to be adjusted. Once the quick wins of ESG are accomplished—including reducing waste, reallocating budgets, or lowering energy use—advances in sustainability require in-depth knowledge of and proximity to the daily business. This tends to favor delegating ESG responsibilities to individual business units. But that delegation doesn't negate the importance of a central ESG team, which still adds value at a strategic level: ongoing competitive pressures and operational challenges mean that business units often lack the time to keep abreast of challenges and opportunities (or face misaligned incentives and disincentives for action). CSOs therefore constantly need to keep their ears to the ground and alert their organizations when and where necessary.
Esther Verburg summarized the evolution of the CSO role at Tommy Hilfiger this way: "When we started in 2010, sustainability was very much focused on raising awareness. Then in 2014, we did a program that was more focused on bringing targets around sustainability into the business, and it became about participation. Now we're transferring the ownership to the rest of the business. That's a work in progress. We need to think about what the incentives and the KPIs are, so there is a qualitative way of executing sustainability and integrating it into our day-to-day. But I do believe that we have turned the corner when it comes to understanding at the management level that sustainability is now part of who we are, how we make a product, and how we run a business."
Frame sustainability as a winning journey
Promoting ESG in organizations often requires overcoming what our colleague Emma Cox calls the "sticky middle." Between corporate leaders at the top who may well support a sustainability transformation and the often young, progressive advocates for it at the bottom, there are frequently managers and employees who are vested in the status quo. This might include, for example, the head of a business unit that earns its current revenues with unsustainable legacy products.
Overcoming this sticky middle is key to making an ESG agenda work. This includes framing sustainability throughout the organization as a winning journey. "One of the CSO's key priorities—especially early on—is to make clear how sustainability contributes to the business," Esther Verburg says. "It is not an 'either/or,' but an 'and.' Creating that understanding and linkage of how sustainability drives value is absolutely key. You also need to address how sustainability links up with and strengthens your brand story. Sustainability in itself is not a differentiator, so you need to develop your sustainability narrative."
Given that ESG influences all departments of a company, emphasizing the upsides of a sustainability transformation from the very top is crucial to developing sustainable products and services. This also helps overcome the often long-held and deeply entrenched notion that sustainability is not core to business success and can pose a threat to profitability. Implementing a C-level CSO role doesn't solve everything, but it is an important element for driving a successful ESG transformation with impact.
—
This article first appeared in www.strategy-business.com
Seeking to build and grow your brand using the force of consumer insight, strategic foresight, creative disruption and technology prowess? Talk to us at +971 50 6254340 or engage@groupisd.com or visit www.groupisd.com/story