Amazon's ascendancy on Madison Avenue has been clear for some time. Still, the extent of its ambitions was laid bare when it started to explicitly state its media revenues last year.
In Q4, Amazon's ad business generated $11.56 billion, up 23% year on year, and in October 2022 it trumpeted its advertising wares with the unveiling of its Amazon Marketing Could data clean room offering, fronting its Madison Avenue charm offensive.
Although it was later in the year that Amazon's cloud computing arm played (what some are calling) its trump card with the launch of AWS Clean Rooms, it was an outing that the company hopes will assuage concerns over a "lack of clarity" in the sector.
According to Synergy Research Group, Amazon commands more than a third of the cloud services market, followed by Microsoft's Azure, which accounts for 21% of the market, and Google Cloud Platform, which has an 11% share. Indeed, some believe AWS' 34% share of the cloud sector could prove a key unique selling point in accelerating Amazon's pursuit of advertisers' budgets.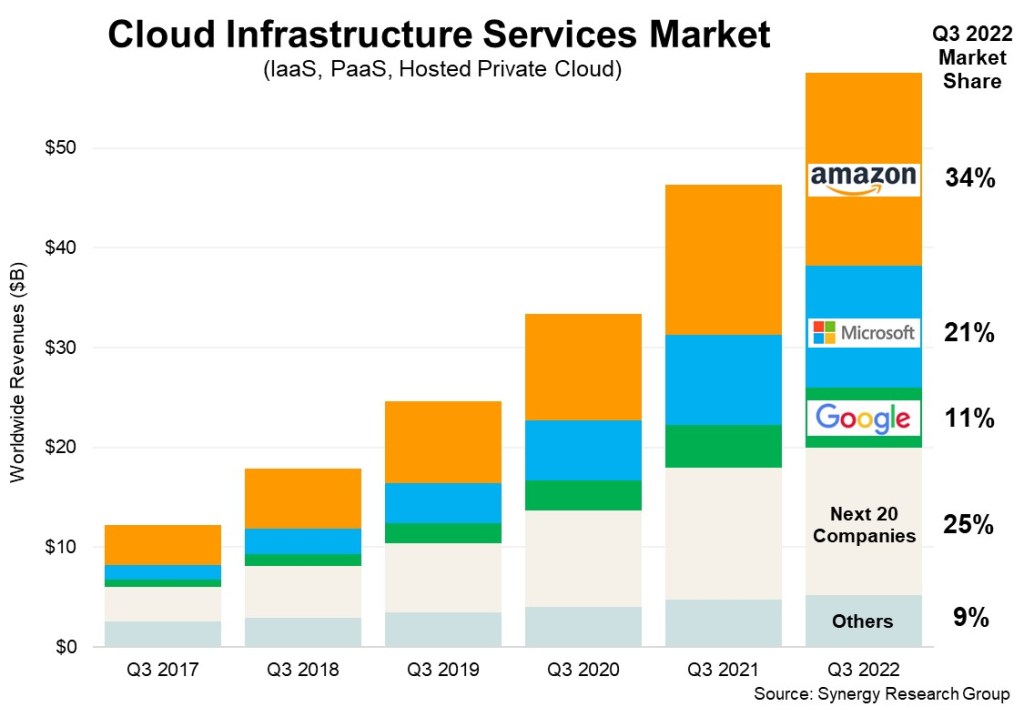 AWS Clean Rooms was announced with several partners ranging from Amazon Ads to third-party ad tech outfits, agency holding groups plus media owners, and pitched as a means of helping companies collaborate over combined datasets.
"With AWS Clean Rooms, customers can create a secure data clean room in minutes and collaborate with any other company in the AWS Cloud to generate unique insights about advertising campaigns," reads the pitch.
Taking care of the little things
Presenters at November's AWS re:Invent event made note of how those collaborating on the platform can "achieve in hours, what used to take days," as a common web infrastructure can lead to benefits such as a reduction in latency between platforms.
The conference also saw the unveiling of AWS' advertising and marketing technology team, led by former Xandr and AT&T data chief Tim Barnes. This unit is dedicated to helping AWS clients from the marketing and media vertical build applications on top of its infrastructure and then take the resulting solutions to market.
"The kind of things they're asking partners is, 'What are you tired of building and managing? What are the commoditized technologies?' Basically asking them what they don't want to do anymore, and need automated," noted one AWS re:Invent attendee.
The source, who requested anonymity, added, "It's like, AWS is an open platform for builders and the underlying data sits within their own environment … security and data is already well defined with AWS principles."
Speaking recently with Digiday, separate sources noted how just about all of the Big Tech players looking to further market share in the advertising landscape will have to emphasize their cloud computing wares in order to satisfy privacy requirements — not to mention, offer simplicity and better pricing.
Myles Younger, head of innovation and insights at U of Digital, noted a convergence between ad tech and cloud infrastructure, and that many of the industry's largest names were leveraging this as a competitive advantage. "While AWS Clean Rooms is not technically Amazon Ads, it's clear to see how it is using it as a competitive advantage," he told Digiday.
Meanwhile, Shiv Gupta, U of Digital's founder, said that the Big Tech players' various offerings were collectively pitched at the C-Suite event during this year's CES event. "They've announced a lot of things over the last six months and you could see them bringing together things like [the Amazon Ads clean room]AMC, the [AWS] Clean Room offering, and then bringing that back to its [demand-side platform] DSP … those things are eventually going to converge, it's not just ad tech anymore," Gupta said.
Meanwhile, Bob Walczak, CEO of MadTech Advisors, described Amazon as the "800-pound gorilla in the room," given its dominance in the cloud computing sector, and noted how this could significantly propel the company forward in the advertising sector.
Presently, the ad industry lacks technology standards in the clean room space (despite the hype around them), with the IAB Tech Lab hoping to usher in such interoperability benchmarks later in 2023, he noted.
According to Walczak, Amazon is well-placed to emerge as a frontrunner in the land grab. "With this launch, they instantaneously have a big swath of the industry using their clean room," he added. "And now they become the standard, I frankly think they'll collaborate with the IAB [Tech Lab] to steer it toward their standard."
A separate source with direct knowledge of how the Big Tech giant is pitching its various wares to potential partners noted that Amazon's ability to offer synergies was a key benefit, particularly as corporations' procurement departments get involved in negotiations.
"Advertisers are increasingly looking at group negotiations and know that they can get better pricing on both fronts [if they discuss things like cloud computing and media]," added the source, who requested anonymity.
"You can start with commercial synergies, and then move on to technological ones, more and more, these conversations are happening at a deeper level," the source said.
ENDS
—
This article first appeared https://digiday.com
Seeking to build and grow your brand using the force of consumer insight, strategic foresight, creative disruption and technology prowess? Talk to us at +971 50 6254340 or engage@groupisd.com or visit www.groupisd.com/story