Is it possible for companies to increase feelings of well-being in their consumers? Yes, if they put brand purpose at the center of their marketing strategy, according to research from Wharton's Patti Williams.
In his 2022 letter to CEOs, BlackRock founder Larry Fink called on companies to articulate their core values during this era of stakeholder capitalism and eroded consumer trust.
"It's never been more essential for CEOs to have a consistent voice, a clear purpose, a coherent strategy, and a long-term view," wrote Fink, who leads the world's largest asset management firm. "Your company's purpose is its north star in this tumultuous environment."
His message is so relevant that Wharton marketing professor Patti Williams refers to it in the beginning paragraphs of her co-authored paper on brand purpose, a topic that is gaining attention as academics, marketers, managers, the media, and the public all struggle to define what it means and how it differs from corporate social responsibility (CSR).
"When someone like Larry Fink comes along and says that brand purpose should be your north star, that's different than CSR. He's saying that purpose has to sit at the center of your strategy. It's not just about doing good on the side," said Williams, who is also vice dean of Wharton Executive Education.
The paper, "Conceptualizing Brand Purpose and Considering Its Implications for Consumer Eudaimonic Well-being," appears in the Journal of Consumer Psychology. The co-authors are Wharton doctoral candidate Andrew Morningstar, and Jennifer Edson Escalas, a marketing professor and associate dean of academic programs at Vanderbilt University's Owen Graduate School of Management.
In their paper, the scholars lean away from CSR and draw heavily on research into human purpose, exploring how it can be used to define brand purpose and suggesting ways in which brands can enhance consumer well-being through, among other things, helping consumers find their own purpose and meaning in their lives.
"The idea that brands might actually have the ability to deliver well-being to consumers is an area that is ripe with opportunity," Williams said, noting that the COVID-19 pandemic pushed many people to refocus on what's most important in their lives. "There is this opportunity for brands to speak to that desire for human purpose with their customers, for well-being with their customers, and I think there's a richness and power in that."
Putting Parameters Around Brand Purpose
Defining brand purpose can be tricky because the mission statements of most companies look inward, emphasizing profits or a commitment to employees or building the best product at the best price. But brand purpose goes far beyond that. Much like human purpose, it's aspirational. It seeks to connect people with each other, their communities, and the larger world. In short, brand purpose should make customers feel happy, satisfied, and aligned with their personal goals.
The authors define brand purpose as follows: "A brand's purpose is a long-term, central aim that is a predominant component of its identity, meaning structure and strategy, which leads to productive engagement with some aspect of the world that transcends the brand's profits."
Central to the paper is a framework the authors offer to help determine how brand purpose leads to consumer well-being and other outcomes (see figure). This focus on consumer outcomes, rather than firm-related outcomes such as increased sales or customer loyalty, is one way in which the paper differs from prior research.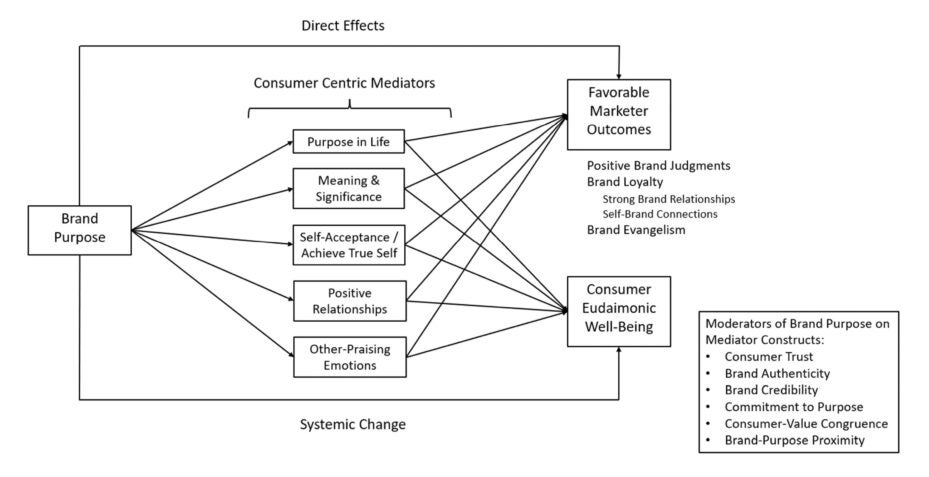 "A lot of the literature on brand purpose has talked about the value [to brands]and how well it might benefit your bottom line, which can be a big consideration for firms," Morningstar said. "But when you're talking about purpose that's supposed to be broader, that's transcendent — beyond a brand's profitability."
The framework is filled with provocative questions that are designed to spur more research by other scholars who want to explore the topic. But it's also useful for managers and marketers who want to establish or refine their brand purpose.
The framework contains five "consumer-centric mediators" through which brands can affect consumer well-being. They are: Stimulating consumers' purpose in life, their personal meaning and sense of significance, and their self-acceptance. It may also increase well-being by fostering positive relationships, and by the other-praising emotions evoked by witnessing brand purpose.
Williams said she's most interested in the last mediator, other-praising emotions, which are emotional responses that come from witnessing excellence in others. They can include feelings of gratitude, admiration, and inspiration. She said most brands concentrate on a narrow range of feelings, often looking to surprise or delight consumers. But brands can increase consumer loyalty and engagement by figuring out how to tap into these other-praising emotions.
"When I feel a sense of moral elevation, it makes me want to go out and be a better person. When I feel grateful, I want to make somebody else feel grateful," she explained. "These are emotions that cause humans to be their best selves. If we could live in a world where brands inspire people to be their best selves, that's a pretty good world."
For Morningstar, the mediator he is most interested in is "purpose in life." He said brands with a true purpose can help consumers find, or act in alignment with, their own purpose in life, consistent with their own values and beliefs.
"It's meaningful in the way that it helps the consumer give back to the world," he said. "If you're thinking about transcendent goals and consumer eudaimonic well-being, companies can have even more positive impact in the world, by helping consumers find and live according to their purpose. So, it's about having a ripple effect."
Threats to Brand Purpose
In their framework, the scholars also identify six moderators that brands must achieve in order to for their purpose to benefit consumer well-being: consumer trust, brand authenticity, brand credibility, commitment to purpose, consumer value-congruence, and brand-purpose proximity.
Williams said the moderators are a reminder that purpose is more than just a vague mission statement or a catchy slogan for social media posts.
"Every brand knows they need to articulate a purpose. I think what these moderators suggest is that if you say it, then you need to really deliver it," she said. "It's easy to write down a purpose, but it's hard to bring that to life. There are too many organizations that are just saying to their CMO, 'Hey, we need a purpose. It needs to go on our website. Check, we've done it.'"
Morningstar said consumer trust is probably the biggest challenge for companies. It's hard to hold onto customers amid accounting scandals, product tampering, price gouging, and other sorts of wrongdoing that destroy loyalty and trust.
"You see more and more cynicism from consumers around brands, and that leads to cynicism about what good things they can do in the world," he said. "Consumers may not believe that you have this purpose or give you any goodwill. Hopefully, this paper will start to open up brands to thinking about purpose in a way that might help consumers start to trust again."
—
This article first appeared in https://knowledge.wharton.upenn.edu
Seeking to build and grow your brand using the force of consumer insight, strategic foresight, creative disruption and technology prowess? Talk to us at +971 50 6254340 or engage@groupisd.com or visit www.groupisd.com/story