And driving up engagement levels for brands in the process
Influencers are driving engagement with brands on Instagram at levels well beyond those seen by companies' own posts on the Facebook-owned social media platform.
According to a June 2017 study of influencers on Instagram from NewsWhip, paid posts made by influencers dwarfed engagement levels of owned posts made by the brands themselves.
For example, JetBlue averaged 2,363 engagements in June on its owned posts, while influencer posts garnered an average of 241,226 engagements. That was more than 100 times the engagement level from the brand's own posts.
Influencers working for Wendy's also saw a similar gap between engagement levels garnered by influencer posts and those generated by the company itself.
The difference was just as staggering for smaller brands as well. For instance, logistics company Postmates averaged far fewer than 1,000 engagements on posts in June, while influencer posts garnered an average of nearly 27,000 engagements.
Among the brands examined, cosmetics firm Urban Decay had the smallest gap in engagements between its own posts and those generated by influencers, but it was still sizeable: 66,440 vs. 101,408.
"Consumers have always been more likely to engage with other consumers than with brands; social media has just brought that to the forefront of digital," said eMarketer analyst Nicole Perrin.
NewsWhip also reported that Italian businesswoman and social media maven Chiara Ferragni topped its list of Instagram influencers worldwide, as measured by "likes" and comments on sponsored posts. She was followed by soccer player Cristiano Ronaldo and fashion figure Gigi Hadid.
NewsWhip's findings seem to mirror a November 2016 study from Launchmetrics that measured the effectiveness of influencer marketing.
Nearly all the PR and marketing professionals worldwide polled in the survey described influencer marketing as at least somewhat effective at raising awareness about their company or its products.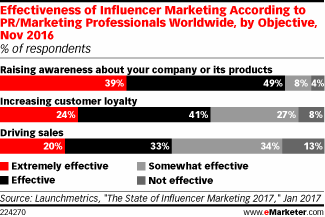 Almost as many, 87%, indicated that influencer marketing was at least somewhat effective at driving sales.
But there are reasons for brands to be cautious when working with influencers.
"Brands risk losing control of their message and getting into serious brand safety issues. The brand can't really try to control the influencer too much, or you risk losing the 'authenticity' and risk the relationship itself," said Perrin.
Perrin also noted that brands must take their time to vet potential influencers before moving forward.
"A big risk here has been marketers rushing in, thinking, 'Everyone has an influencer, I need an influencer.' When you really need to keep brand safety in mind," she said.
–
This article first appeared in www.emarketer.com
Seeking to build and grow your brand using the force of consumer insight, strategic foresight, creative disruption and technology prowess? Talk to us at +9714 3867728 or mail: info@groupisd.com or visit www.groupisd.com