In its first-ever global campaign, the streaming giant aims to make its brand feel like more than just the place you binge.
The hype around the company tends to focus on the content, which makes a good amount of sense since it started churning out original shows and movies like Nike does sneakers. Or it's the corporate leaders such as Hastings, talking about the downside of pandemic-imposed working from home. Point is, the focus around Netflix is rarely on the Netflix brand, but rather what the company facilitates for us.
In terms of marketing, that's translated into campaigns and social engagement that pointed the spotlight on individual pieces of content, particularly tentpole originals such as Stranger Things, or large fan bases it hopes to woo, such as African Americans via Strong Black Lead, as opposed to itself.
Now, the company is aiming to make a statement about what it wants to be to you with its first-ever global brand campaign.
Of course, given the sheer amount of Netflix many of us have tapped directly into our veins since March, it probably could've just been a giant blank screen with a red "You're welcome" on it. But it's not.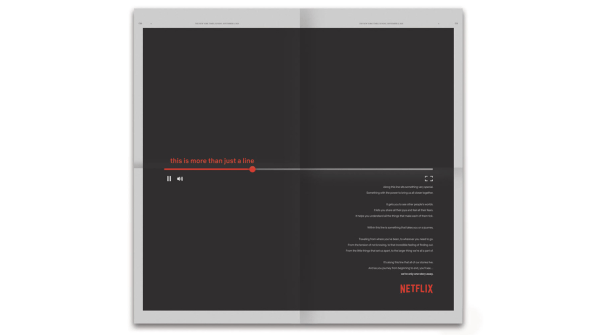 Dubbed "One Story Away," the campaign was teased in Sunday's New York Times and launches on Thursday, September 10, in 27 countries across TV, radio, and billboards. The primary ad is a 90-second paean to the journey you go on every time you hit play. Narrated by Ava DuVernay, it begins, like everything on Netflix, with a black screen and a red progress bar starting to move. As the bar moves through scenes from such shows and movies as The Queen, Sex Education, Orange Is the New Black, and DuVernay's own When They See Us, the star director and producer talks about what these stories teach us about the world and ourselves."Sure, there's a lot you may not know," she says. "But that's exactly what makes a story worth watching. Because in the end we're only one story away."
That's because everyone's experience on the streamer is different based on their tastes, but there still are common threads that tie it all together. One that the brand's marketers are betting on is how our perspectives change after we've watched something. In a blog post, Netflix vice president of brand Eric Palotta writes, "The TV shows and films we watch bring out all sorts of different emotions, give us perspectives we've never seen before and even make us feel closer to each other."
It's that before-and-after that led to the progress bar emerging as another potential brand symbol. Netflix knows it has instantly recognizable iconography: the Netflix N, the color streams that play before starting something, and of course, the 'DUH-dunnnnnng' sound.
Now it wants to build on that by using the progress bar as a metaphor for that journey every viewer goes on.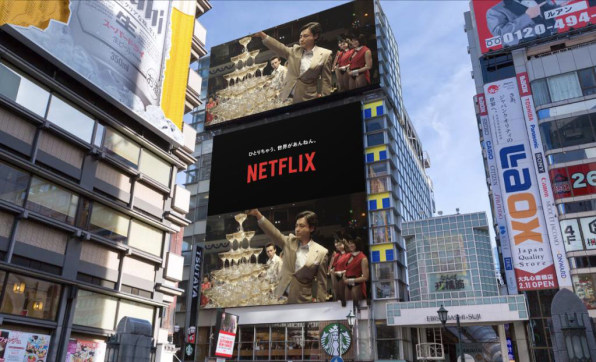 As dominant as Netflix is in the United States, as well as other markets it's been in for years such as Canada and Brazil, there are others, such as Japan, Korea, and India, where it still needs to explain to people what it is—and why it's good. Despite those differences, this campaign aims to speak to both potential new and long-time subscribers.Part of appealing to those global audiences is adapting the new spot to be narrated by homegrown talent. French actor Omar Sy narrates the ad in France, for example, while comedian Hannah Gadsby is the voice in Australia.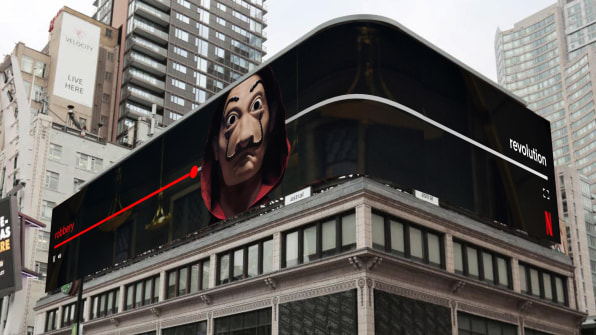 Netflix officials are quick to point out that this isn't the company's Pandemic Ad, but something that's been in the works since long before March. Which means that it also predates the hire of chief marketing officer Bozoma Saint John, who joined in July. While the new executive didn't oversee this one, the brand's effort to build an emotional connection between its audience and the company—and not just for the content it serves them—certainly has her stamp of approval.
As brand building goes, it's perhaps the company's weakest link. It's no shocker that this push comes now, amid the launches and continued growth of rival streaming platforms such as Disney Plus, Amazon Prime Video, HBO Max, and NBC's Peacock, among others. Many of these are strong brands looking to extend our consumer goodwill to streaming, while Netflix is playing it the other way by translating an unmatched streaming strength into a stronger brand.
This article first appeared in knowledge.wharton.upenn.edu
Seeking to build and grow your brand using the force of consumer insight, strategic foresight, creative disruption and technology prowess? Talk to us at +971 50 6254340 or mail: engage@groupisd.com or visit www.groupisd.com/story