18- to 34-year-olds with affluent incomes go online more than 7 hours a day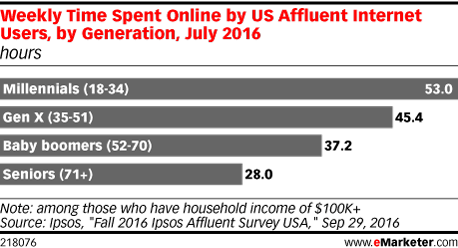 Affluent millennials spend about twice as much time online as seniors with the same income level, according to research from July 2016. Regardless of age, however, the average affluent internet user in the US spends significant amounts of time with the internet on a regular basis.
According to polling by Ipsos, the average millennial with household income of at least $100,000 spends 53 hours per week online, more than their counterparts in any other generation. Gen X affluents are almost 10 hours behind.
Assuming equal amounts of time spent online each day of the week, that translates to about 7.5 hours of daily internet time for millennial affluent internet users, about 6.5 hours for Gen Xers, about 5.3 hours for baby boomers and 4 hours for seniors.
For comparison, eMarketer estimates that the average US adult internet user spends 2 hours 49 minutes each day going online via desktop or laptop PCs, and the average adult smartphone user spends an additional 2 hours 30 minutes each day on nonvoice mobile activities. The average US adult spends a total of 5 hour 42 minutes on digital media activities each day.
According to Ipsos, the mobile activities of affluents are familiar among the general population as well. The two leading smartphone activities, the survey found, were sending and receiving emails along with using apps, each chosen by 72% of respondents.
Similar shares of affluent smartphone users checked the weather and looked up directions, though activities dealing with pictures were somewhat less common.
UK-based research on affluents and social media found they were more likely to be active on several platforms than any other income group.
This article first appeared in www.emarketer.com
Seeking to build and grow your brand using the force of consumer insight, strategic foresight, creative disruption and technology prowess? Talk to us at +9714 3867728 or mail: info@groupisd.com or visit www.groupisd.com