Amy Jackson (pictured) looks at how companies are refreshing their brands.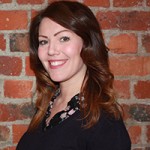 It seems after so many recession years of battening down the hatches and not spending anything more than necessary, firms are finally prioritising their brands.
An identity refresh can bring existing customers back into the fold while encouraging new ones to buy into your goods, services or philosophy. Some of the biggest companies in the world are this year recognising the power of a re-brand, with many of the most globally recognised names opting for a refresh. Here's our round-up of some of the most noteworthy so far this year:
The UK's Premier League
There was uproar when The Premier League threatened to drop the lion entirely from its branding. Thankfully, while the lion may have lost its body, it still retains its crown – featuring on new, cleaner, colourful branding for the league, which is now without a title sponsor for the first time since 1993. Read the report here.
CBBC
It is always a risky move when you change a brand synonymous with many people's childhood, and the new CBBClogo has divided opinion. Moving away from the playful green logo towards something which looks more abstract, and more corporate, the BBC said its new identity was more versatile for the digital media age. However, critics on social media have described it as ugly and like "Pac-man on acid".
Lynx
Known as Axe everywhere else in the world, the Lynx male grooming brand has become synonymous with ads showing skimpily-clad women falling at a man's feet as soon as soon as he puts on his body spray. Having carried out research into their target market, Lynx found many men weren't confident about their own attractiveness, so it has launched a campaign to encourage men to be happy in their own skin, asking who needs 'some other thing', like a six-pack, when you've got 'your thing'.
Channel 5
Even though it is the baby of the UK's main terrestrial channels, having been launched in 1997, Channel 5 has seen quite a few re-brands in its short life. Channel 5 started the idea for its latest look in the right place, with its viewers, finding that there were perceptions about poor quality programming. It ran with this feedback and created not just a new logo but short, cinematic films designed to create an element of surprise, from a pod of five whales emerging from the ocean to five tropical birds landing on an inner city balcony.
Uber
The taxi hailing app is no stranger to controversy and its new branding is no exception to that. The logo itself has simply become chunkier and bolder, but the real change is to the way you see the app on your smartphone, which has lost its distinctive 'U'. The new logo varies depending on whether you're using it as a driver or a passenger and the colour varies from country to country, leading many commentators to point out that it has caused confusion among users. It goes to show that a re-brand is not always a positive move, unless you have really put the time into your upfront research.
The Pony Club
Keen to shake off its fuddy duddy image, The Pony Club has completed its first identity refresh since its inception in 1929. The Pony Club's membership has been in decline for a decade, from a high of 50,000 to its current level of 41,000 and the organisation is keen to attract more young riders with a move towards a more casual feel. The new logo features a rider in casual dress rather than in a hunting jacket.
Crossrail
Crossrail, the new railway which will run beneath London, will no longer be known as Crossrail under its new re-brand, but as the Elizabeth Line, in honour of the Queen, who arrived at the unveiling in the same regal purple as the line's new logo. Aligning your brand with someone who engenders trust and respect can be a wise move. However, if everything doesn't run to schedule, the Elizabeth Line is more likely to hit the headlines simply because of its name.
Volkswagen
Volkswagen has had something of a fall from grace in the wake of the emissions scandal, so it was always going to be difficult to rebuild consumers' trust. The new campaign is a prime example of thinking not about what your brand means to you, but what it means to your customer. Its ad features a young boy in his father's VW Beetle, following him through each life stage, with a different VW each time, as he starts a family of his own. It's a clever move, using the trustworthy feel of a family scenario and helping potential customers to see themselves in a VW.
Oscar
Even the world's most glamorous brand has had a new look this year. Although the Academy Awards' Oscar has looked roughly the same since he was first handed out back in 1929, like most leading men, he's been no stranger to a few nips and tucks. Now, the Oscars have gone back to a more heritage feel, bringing the coveted statuette back in line with the original sculpture by George Stanley.
Whatever sector your firm is in, a rebrand can sprinkle it with the equivalent of some Hollywood stardust, giving existing customers the impetus to return and potential ones the confidence to do business with you for the first time.
Amy Jackson is director of branding agency Unwritten Creative.