This startup thinks it's cracked streaming TV's 'where's what I want to watch?' problem
Deciding what to watch has long been something audiences have had to contend with as the summit of peak content clearly remains out of sight.
According to Nielsen, adults 18 to 34 spend more than nine minutes scrolling through their options. That decision paralysis is only made worse by the crushing amount of new platforms that keep rolling out. Last fall saw the one-two punch of Apple TV Plus and Disney Plus. This year has already seen the debut of Quibi and Peacock (for Comcast customers initially), with HBO Max hopping into the fray next week.
The sheer number of platforms to juggle has led to streaming aggregators like Reelgood and Watchworthy to help make sense of it all, though there isn't one that has emerged as the dominant option.
Now there's a new player in the space that aims to be your aggregator of choice.
VUniverse (pronounced "view-niverse") is described as a "platform-agnostic complement to streaming services," making it easier to figure out which shows and movies live where, as well as make what CEO Evelyn Watters believes are better informed suggestions on what to watch next.
"It really seemed like there was this need in the marketplace," Watters says. "Nowadays with technology being what it is, why do I spend 20 minutes every night trying to find something to watch?"
Watters and her sister Monica Brady, COO of VUniverse, were the brainchildren of the Golden Trailer Awards, the annual ceremony honoring the best in feature film trailers and marketing since 1999. In 2011, they tried getting something of a precursor to VUniverse off the ground: The Daily Trailer was meant to serve up trailers based on your personal tastes. When fundraising around that idea didn't go as planned, Watters put the idea on the back burner until the rise of streaming platforms.
"The concept of VUniverse was birthed out of the frustration from the paralysis of choice," Watters says.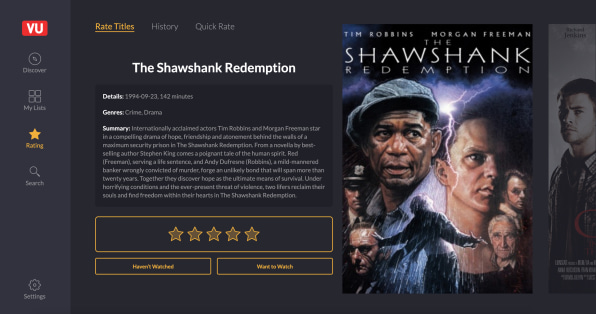 Like other aggregators, VUniverse pulls data from major players including Netflix, Hulu, Disney Plus, Amazon Prime Video, HBO, and Apple TV Plus. (Quibi is not included at this time.)But the differentiating factor according to Watters is VUniverse hitting on what she refers to as the platform's "four pillars": utility, discovery, organization, and community.
"We have competitors that serve one or two of those," Watters says. "For community that would be a Letterboxd type of service. Organization, that would be an IMDb. Utility would probably be Reelgood and Just Watch, finding what movie or TV show is available. But discovery is the greatest feature of what we're doing."
Led by Julie Rieger, former chief data strategist at 20th Century Fox, VUniverse is leaning on a "a unique combination of proprietary algorithms, AI, and human curation" to help surface better recommendations.
During signup, VUniverse users create a taste profile based on a series of questions. From there, data from your watching habits feeds the algorithm, which pulls in suggested titles across the streaming services you use.
"We were like, there's gotta be a better way because the algorithm should serve the people," Watters says.
True: Relying on algorithms specific to a streaming service isn't a very satisfying option, because recommendations are limited to only what's on that platform. Shuffling through recommendations in all your subscriptions is a pain.
But will VUniverse be able to make a dent in the marketplace of aggregators?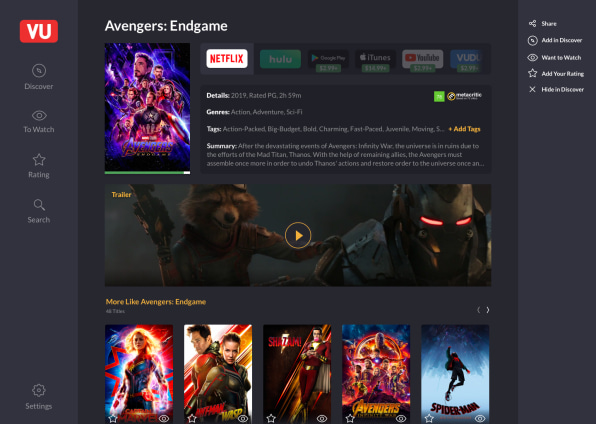 VUniverse was born out of the struggle of decision paralysis, but now there seems to be the same paralysis in choosing which platform to solve the original issue. Given the fact that VUniverse's ace in the hole is its AI and algorithm that promise better discoverability, its challenge out the gate is attracting users who may have already invested their time and data in other aggregators.That said, Watters remains confident that VUniverse will be able to find its own lane with its algorithm leading the way.
"Our tagline is 'know what to watch.' We want to help consumers know what makes the most sense for them," Watters says. "As far as taking them away from a competitor, I think that ultimately they would find that our algorithm . . . would prove to be that much more in tune."
–
This article first appeared in www.fastcompany.com
Seeking to build and grow your brand using the force of consumer insight, strategic foresight, creative disruption and technology prowess? Talk to us at +971 50 6254340 or mail: engage@groupisd.com or visit www.groupisd.com/story