Consumers say they trust ads, new survey finds
Trust in key institutions has plummeted in the US, but a new survey finds significantly more consumers say they trust advertising now than said the same three years ago.
The March 2017 survey by YouGov asked internet users who see ads at least once a month if they trust the advertising they see, read or hear. Some 61% of respondents said they do. That's an increase of 11 percentage points vs. March 2014.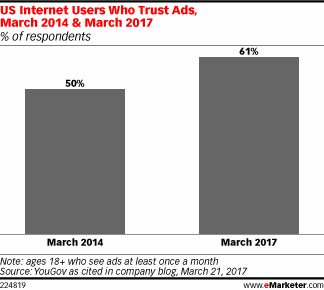 YouGov found that in addition to being more trusting of advertising, respondents were also more likely to say they feel the ads they encounter are "honest."
Indeed, 72% of internet users felt that way—a 16-percentage-point increase from the March 2014 survey.
This survey data makes for an odd contrast with the declining levels of trust expressed in surveys by Gallup. The annual polls have tracked a sharp loss of trust in US institutions—including churches, banks, the press and Congress—over the past 10 years. Overall, the average confidence in institutions had fallen to 32% in 2016—down from 43% in 2004.
Meanwhile, concerns about ad trustworthiness were split by channel in a MarketingSherpa study from October 2016. More than eight in 10 respondents said they trust print ads when making a purchase decision, and almost as many said they trust TV ads.
Digital ads, on the other hand, fared worse. Just 39% of internet users said they trust online banner ads, and another 39% trusted mobile phone ads.
–
This article first appeared in www.emarketer.com
Seeking to build and grow your brand using the force of consumer insight, strategic foresight, creative disruption and technology prowess? Talk to us at +9714 3867728 or mail: info@groupisd.com or visit www.groupisd.com